Are you interested in a career as a licensed practical nurse?
The Centre for Nursing Studies & College of the North Atlantic are hosting a virtual information session on March 16, 2022 at 7:00 p.m. Please register at https://tinyurl.com/pnrecruit.
---
NLPSPA Scholarship Program 2021
JUNE 2021
NLPSPA 2021 Scholarship Program. Application forms available from NLPSPA office by calling 709-754-5730, toll free 1-800-563-4188, email pensioners@npspa.ca or the NLPSPA website at nlpspa.ca
---
A visit from Stella!
November 2020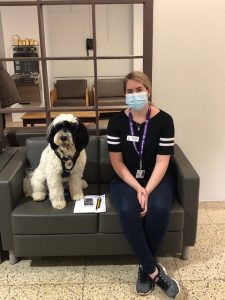 Stella, the Royal Newfoundland Constabulary support dog and her handler Constable Krista Fagan visited students, faculty, staff and administration at the Centre for Nursing Studies this morning. Stella brought much joy to all, particularly the Practical Nursing Program students who were on site this morning for a final examination. Stella received lots of love and attention from all those she had the pleasure of meeting.