Are you looking for a career as a Licensed Practical Nurse?

The Centre for Nursing Studies & College of the North Atlantic are hosting a virtual information session on Wednesday, February 22, 2023, 7:00 to 8:00 p.m.
To register, please click on the following link – https://tinyurl.com/pnrecruit
For additional information, contact Debra Green at 709-777-8158, debra.green@mun.ca or Catherine Rice at 709-777-8174, catherine.e.rice@mun.ca.
---
Welcome to the Centre for Nursing Studies 2022
August
Welcome to the Centre for Nursing Studies (CNS)! Whether you are a new student or returning to continue in one of our many nursing programs, you are on the path to being an integral part of the largest group of regulated health professionals in Canada. It is a pivotal time to be a nurse. The COVID-19 pandemic has transformed health care and the nursing profession as well as shown just how vital nurses are in assisting individuals to achieve optimal health outcomes. Throughout the pandemic, nurses have consistently demonstrated unwavering leadership, commitment, knowledge, resilience, compassion and courage in the delivery of excellent care to individuals, families and communities.
The CNS is an extraordinary place in these extraordinary times where you will be part of an educational program that will be life-changing. Faculty, staff and administration at the CNS are committed to offering high-quality nursing education programs that have received the highest accreditation and/or approval ratings. The CNS faculty members are recognized as leaders in the nursing profession and are committed to excellence in all aspects of nursing education, practice and research. They will support students and facilitate their learning. Our academic and support staff members are knowledgeable and helpful. They go above and beyond to support students and faculty alike. The CNS takes tremendous pride in its 26-year history of offering exceptional nursing programs. CNS graduates are recognized for their competence, leadership skills and ability to function in diverse health care settings. Many CNS graduates have been on the front lines during the pandemic providing quality and safe health care to patients, families and communities.
I continue to be in awe and proud of CNS nursing students who, despite some challenges, remain committed to their studies and ensure a profound impact on the lives of others while in the nursing student role. I sincerely thank all students for choosing nursing and stepping forward to be a part of a profession that is worthy of the utmost praise and respect.
On behalf of the administrative team at the CNS, I would also like to extend a sincere welcome to all faculty and staff members. The CNS faculty and staff continue to work tirelessly to ensure program excellence and successful outcomes for nursing students. They all have a critical role to play in the success of nursing students and programs. I look forward to working with them throughout 2022-2023 to ensure that it is a successful, safe and rewarding year for all students, faculty and staff.
Please note than while on site for any teaching/learning activity at the CNS, we will be following our COVID-19 Health and Safety plan which will be shared with all of you.
Sincerely,
Dr. Kathy Watkins
Director, Centre for Nursing Studies
---
Centre for Nursing Studies Receives Seven-Year Accreditation Status
August 2022
The Centre for Nursing Studies, operated by Eastern Health, has received a 7-year accreditation status for the Bachelor of Science in Nursing (BScN) program from the Canadian Association of Schools of Nursing (CASN).
About the Accreditation standards
Accreditation through CASN, the governing organization in Canada for nursing education, is a process that many nursing programs periodically undergo to ensure the delivery of a curriculum that is relevant and has resources and processes in place to better prepare students for their roles in nursing practice. Receiving a seven-year accreditation status by CASN is the highest possible accreditation award in nursing education and is considered the gold standard.
What we have achieved
Since 1996, the BScN program has gone through the accreditation process four times. This year's accreditation process marks the fourth consecutive time that the BScN program has been awarded the highest rating from the CASN.
Partner sites of the BScN program
The BScN program is delivered at three partner sites in Newfoundland and Labrador, including the Centre for Nursing studies, which is operated by Eastern Health, Memorial University of Newfoundland Faculty of Nursing, and Western Regional School of Nursing. Each of the three sites was assessed separately in early February 2022, with all having been awarded a seven-year accreditation status.
We have much to celebrate
A tremendous and heartfelt thank-you to all those who helped make this happen. The exceptional and engaged faculty, staff and students at the Centre for Nursing Studies, with their focus on excellence, quality and collaboration, have contributed to an outstanding program and learning environment.
---
NLPSPA Scholarship Program 2022
JUNE 2022
NLPSPA 2022 Scholarship Program. Application forms available from NLPSPA office by calling 709-754-5730, toll free 1-800-563-4188, email pensioners@npspa.ca or the NLPSPA website at nlpspa.ca
---
A visit from Stella!
November 2020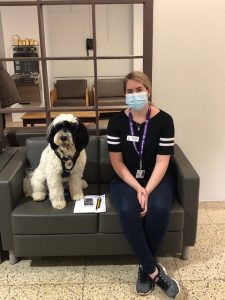 Stella, the Royal Newfoundland Constabulary support dog and her handler Constable Krista Fagan visited students, faculty, staff and administration at the Centre for Nursing Studies this morning. Stella brought much joy to all, particularly the Practical Nursing Program students who were on site this morning for a final examination. Stella received lots of love and attention from all those she had the pleasure of meeting.