NLPSPA Scholarship Program 2021
JUNE 2021
NLPSPA 2021 Scholarship Program. Application forms available from NLPSPA office by calling 709-754-5730, toll free 1-800-563-4188, email pensioners@npspa.ca or the NLPSPA website at nlpspa.ca
Interested in Taking Anatomy and Physiology Online?
FEBRUARY 2021
The Centre for Nursing Studies is pleased to offer the Anatomy and Physiology II distance education online course for the Practical Nursing Program (PNP).  Successful completion of this course will provide a transfer credit for N209 Anatomy & Physiology offered in semester two of the PNP.  Anatomy & Physiology provides the basis for understanding concepts regarding the structure and function of the human body.
For more information visit Anatomy and Physiology today! Registration Deadline is April 1, 2021!
---
Student Parking
january 2021
The student parking lot is available. It can be accessed by entering the Dr. Leonard A. Miller Centre/Southcott Hall property from either Forest Road or Quidi Vidi Road and is located just above the overflow parking. Look for the student parking signage. Students can obtain a complimentary temporary parking pass by emailing Paula.Roberts@mun.ca.
Students take the risk of receiving a parking ticket or being blocked in unintentionally by clients or employees of Eastern Health if they park in the gravel overflow area. The CNS has a small number of students on-site during the winter semester therefore there should always be available spaces in the student lot. If spaces are not available please notify Paula or visit the security office at the Miller Centre.
---
A visit from Stella!
November 2020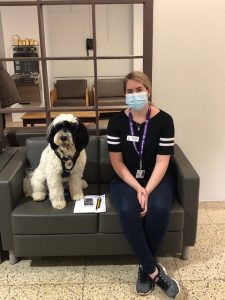 Stella, the Royal Newfoundland Constabulary support dog and her handler Constable Krista Fagan visited students, faculty, staff and administration at the Centre for Nursing Studies this morning. Stella brought much joy to all, particularly the Practical Nursing Program students who were on site this morning for a final examination. Stella received lots of love and attention from all those she had the pleasure of meeting.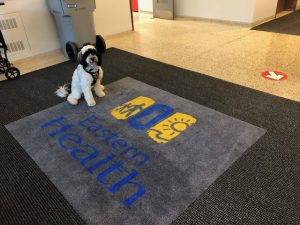 ---
Message from the Director
September 2020
Welcome to the Centre for Nursing Studies (CNS)! Whether you are a new student or returning to continue in one of our many nursing programs, the faculty and staff at the CNS are committed to offering high quality nursing education programs that have received the highest accreditation and/or approval ratings.
This academic year will be unique given the ongoing COVID-19 pandemic and public health directives in place. We assure you that CNS administration, faculty and staff have been working tirelessly and creatively to prepare for the remote delivery of theory and lab content. We will continue to work diligently to assist you with the transition to remote delivery. Some lab content will be delivered on-site for year two students of the Bachelor of Nursing (Collaborative) Program and semesters one and four for students of the Practical Nursing Program. When you visit the CNS for on-site labs or any teaching/learning activity, we will be following our COVID-19 Health and Safety Plan. Clinical courses are anticipated to proceed as scheduled.
The CNS is an extraordinary place where you will be part of a profession and educational programs that will be life changing. The CNS faculty members are recognized as leaders in the nursing profession and are committed to excellence in all aspects of nursing education, practice and research. They will support you and facilitate your learning. Our academic and support staff members are knowledgeable and helpful. They go above and beyond to support students and faculty alike.
The CNS takes tremendous pride in its 24-year history of offering exceptional nursing programs. CNS graduates are recognized for their competence, leadership skills and ability to function in diverse health-care settings. Many CNS graduates have been on the front-lines during the pandemic providing quality health care to patients, families and communities and ensuring the healthy and safety of all.
On behalf of the administrative team at the CNS, I would also like to extend a sincere welcome to all of our faculty and staff members. We all have a critical role to play in the success of our students and programs. I look forward to working with you throughout this academic year to ensure that it is a successful, safe and rewarding year for all students, faculty and staff.
Sincerely,
Dr. Kathy Watkins
Director, Centre for Nursing Studies